Yoga & Movement at Cep & Spa Holistique Marie de Bourgogne
NEW ! Discover our yoga room and practice with the energies of the restored 16th-century buildings.
Yoga classes
Hôtel le Cep & Spa Holistique Marie de Bourgogne now offers a new yoga room. Release your energies in the restored 16th century buildings.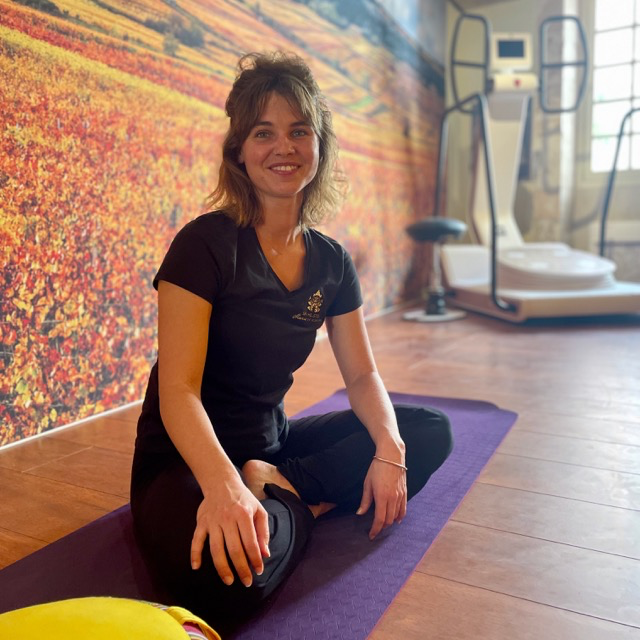 The benefits of yoga at Spa Holistique Marie de Bourgogne
Manon's classes are a journey, a joyful and delicious sensory experience of inner exploration through the awakening of movement and awareness. Classes are open to all, beginners and experienced alike, who wish to connect to their own rhythms.
To fully integrate the benefits of yoga for mind and body, take the time to come and practice at the Marie de Bourgogne yoga studio. Sessions will be adapted to your needs and desires of the moment.
Manon, your yoga teacher
Teaching yoga connects the things that amaze me: people, nature, movement and creativity. My travels combined with my passion for yoga have led me to develop a holistic, pedagogical approach to teaching that is inclusive and attentive to my students' needs. I teach Hatha Yoga, Vinyasa Yoga, meditation and breath control. This palette of practices enables me to tailor my classes to your needs, from very gentle sessions based on listening to the breath and releasing tension, to dynamic practices that activate deep muscles while bringing awareness to our movements and sensations.
I'm available for you all week long at the Hôtel Le Cep, in Beaune, come and meet me at the yoga studio, within the SPA Marie de Bourgogne.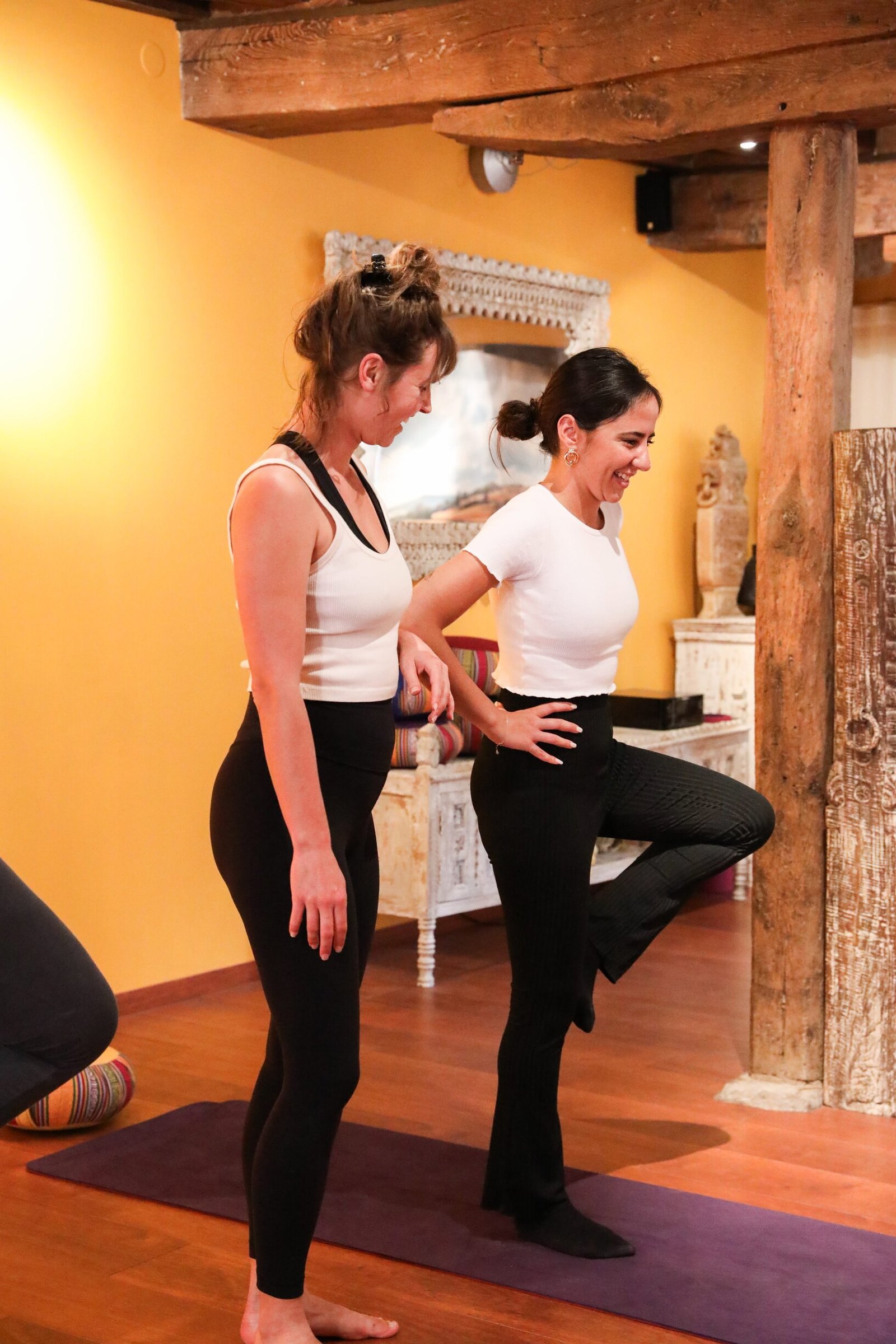 Hatha Yoga
Is the traditional yoga par excellence, and can be translated as "yoga of tenacity" or "yoga of effort". Combining dynamic and static postures (âsana), breathing (prânâyâma), muscular contractions (bandhas), gestures (mudras), powerful cleansing exercises (kriyas), withdrawal of the senses (prathyahara), visualizations and concentrations (dharanas), deep relaxations and meditations (dhyana), Hatha Yoga will act on your mind and body to bring you to a holistic practice. The aim of this practice is to find the balance between comfort "sukha" and firmness "sthira" in your daily life as well as on your mat!

Meditation
is a state of being, not an action. To this end, several tools are offered to help you experience the meditative state, a space of time that you offer yourself where you become an observer, listening to your body and mind without judgment, totally aware, aligned and united in full presence of yourself, of the moment... towards plenitude.

Vinyasa Yoga
Derived from Hatha Yoga, it's based on the same principles, but in a faster, more fluid form. In fact, its practice is based on an evolving sequence of fluid posture transitions (âsana), synchronized with the breath.

Slow Hatha
Is a yoga practice combining Hatha Yoga with Yin Yoga, to create gentle, slow-paced sessions. The focus is on deep stretching, suppleness and mobility, so that you can connect intimately with your breath and your thoughts. The postures (âsana) are mainly on the floor, in a seated or lying position, and are held for several minutes, allowing you to completely relax your muscles and release the tensions buried deep within your body. It's the perfect way to relieve stress and reconnect to your own rhythm.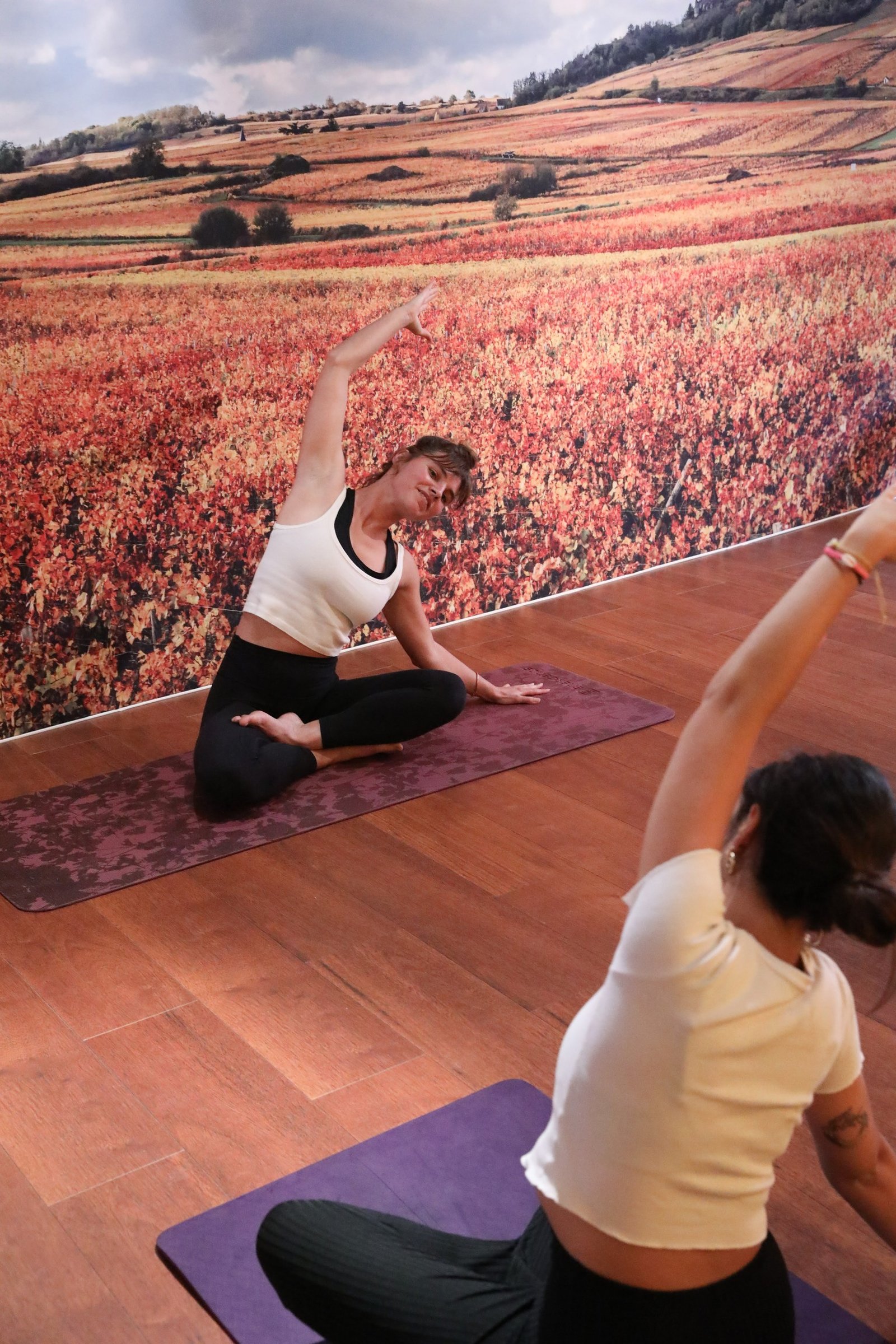 Kalari, the practice of warriors
Kalari Vinyasa is considered one of the world's oldest martial arts. This ancestral practice is largely inspired by nature and animals. Open to beginners and advanced.
In addition to the group classes listed below, Yoga classes are available all week by appointment, please contact us!
Tuesday
08:30 - 09:30
Yoga class
6:30 pm
Yoga class
Wednesday
08:30 - 09:30
Yoga class
By appointment
Thursday
09AM-10AM
Yoga class
By appointment
Saturday
09AM-10AM
Yoga class
10:00AM
Kalari class
Sunday
By appointment 
10:00AM
Kalari class
YOGA & MOVEMENT CARD
10 experiences to choose from* - valid for 1 year
Yoga, meditation, hatha yoga, vinasaya yoga, kalari yoga
LPH Huber 360
Session 30 min
Chromotherapy
Session 30 min
Floatation bed
Session 30 min
Balneotherapy
Session 30 min
Pressotherapy
Session 30 min
Become a member
" Yoga & Mouvement
Yoga classes are held in group sessions according to the yoga schedule below. Registration required.
Access to LPG Huber 360 technology is compulsory after a 1st coaching session (extra charge 60€). Access is then subject to machine availability, outside yoga classes.
Access to theaquabike, balneotherapy, pressotherapy, chromotherapy, hydrojet and floatation bed is by reservation only and subject to availability.
The cardio room is freely accessible and includes an elliptical trainer, treadmill, rowing machine and exercise bike.
Cardio area
 Treadmills & treadmills, elliptical bikes, rowing machines, gym bikes: get your cardio pumping at the top of our panoramic tower, overlooking the rooftops of Beaune!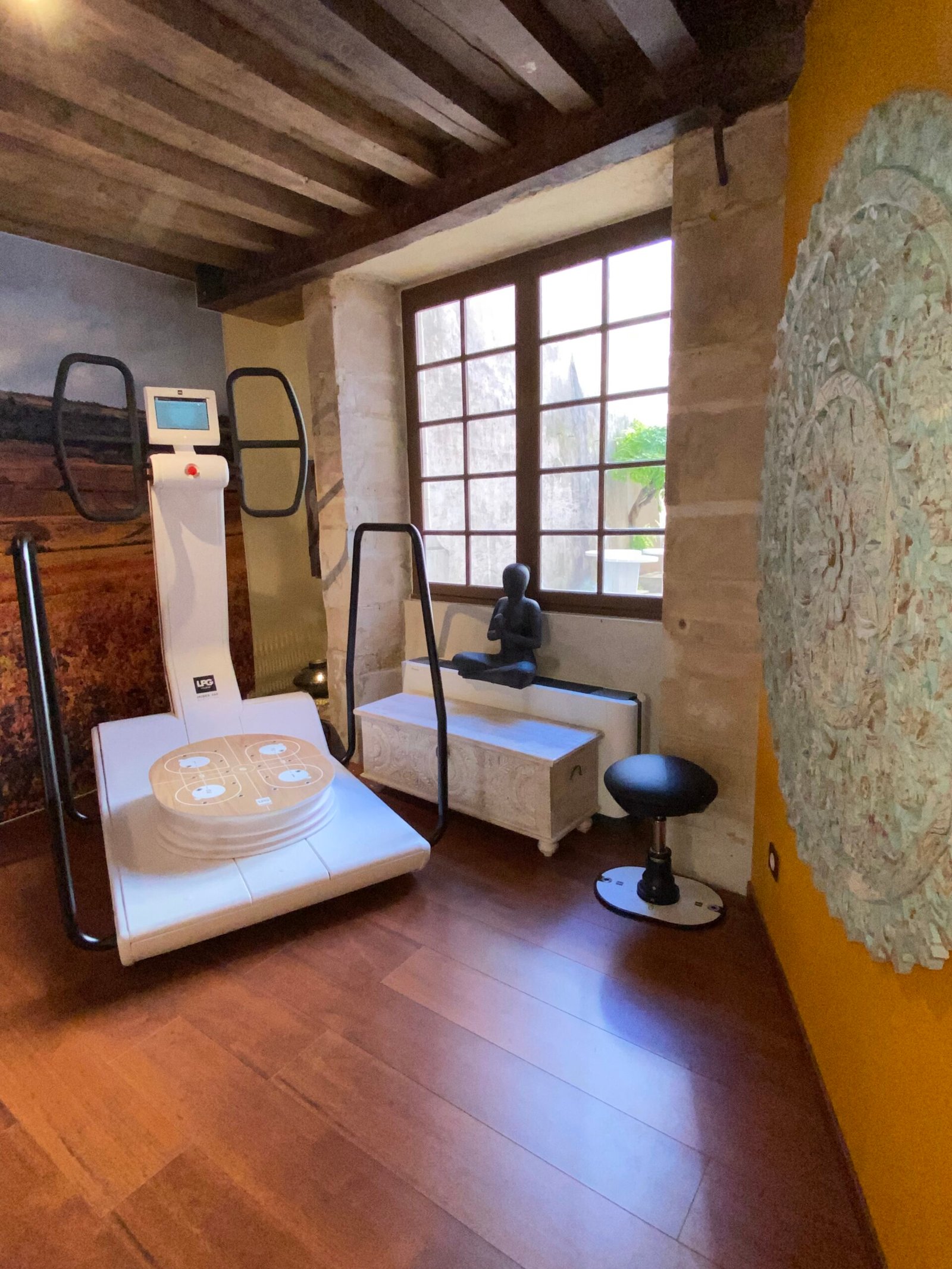 Huber, the new generation fitness platform
3 main pillars make this new technology a major asset for your well-being!
HEALTH: Rapid, autonomous patient rehabilitation
SPORT: Sports preparation by discipline
FITNESS: Short (10') high-intensity sessions
+ Over 600 pre-programmed sessions allow you to progress at your own pace and according to your needs.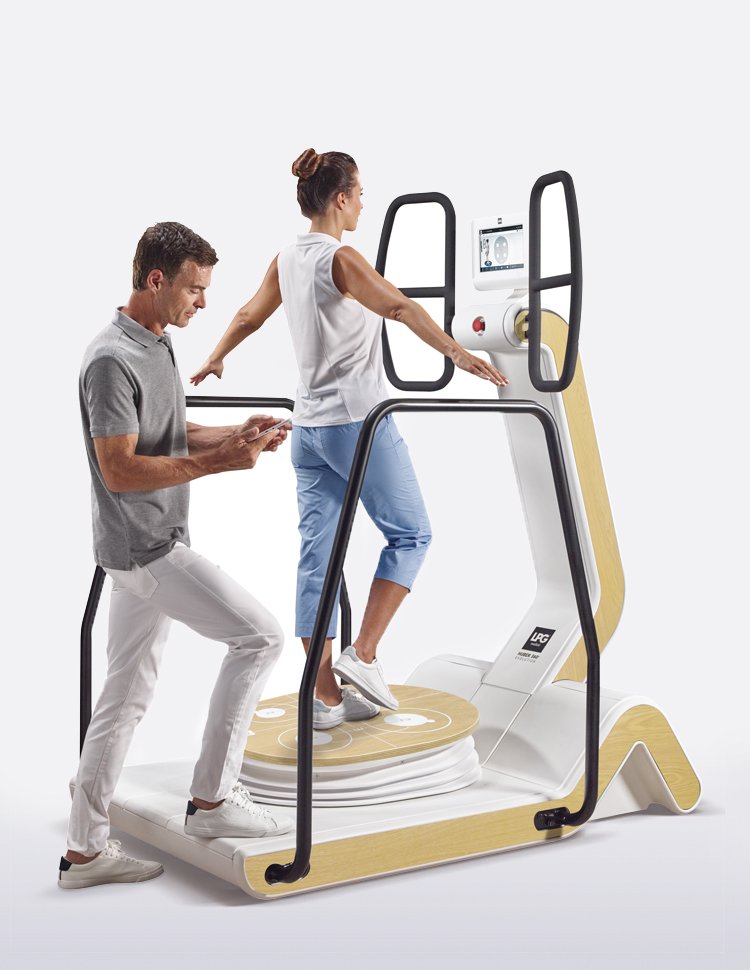 Experience Huber 360 by Le Cep
Equipped with a motorized platform and force sensors in the tabletop and handles, HUBER 360® EVOLUTION offers fun, global functional rehabilitation by breaking down the patient's journey around the 4 fundamentals of movement:
FLEXIBILITY AND MOBILITY
DYNAMIC REINFORCEMENT
POSTURE AND BALANCE
RESISTANCE
The objective? Maintain the indicated position with the help of the targets displayed on the screen, while compensating for any imbalances caused by the oscillating platform. Working in an upright position, similar to that used in everyday life, brings the whole body back into balance in complete safety.
Thanks to an integrated functional assessment comprising 7 reference tests, the coach can accurately assess your state of health and define the objectives to be set. He can monitor your progress session by session.